Sunday, 19 May 2013
Ganzo Multitool G301 with locking function
Written by Irakize
Monday, 09 April 2012 16:21
eBooks -
Knife Book
Ganzo Multitool G301 with locking function

First I want to say that I am big fan of multitools and I was owning top world brands (Leatherman & Victorinox)

Now we will talk about blades that are claimed to be 440C,56-58 HRC, and they really are. They are nice quality and sturdy 6 cm blades.

- Main fine edge blade comes sharpened but not sharp enough so I recommend that you sharpen it by yourself. It does it's job just fine( low to medium demanding blade jobs). When you found yourself in situation without real knife at your hands you will be lucky to have that small and reliable blade on this multitool.

-Serrated blade is excellent and sturdy and I really had no needs to sharpen it. Use for low to medium cutting jobs. I use it for fish cleaning and for cutting the bread, and it does it job perfectly. But maybe some of you would like to use it for cutting cables etc...

- Saw blade is sturdy and it is capable of sawing branches up to 4 cm in diameter. It could saw out bigger branches with more time and patience if you will find yourself in such situations. I did not try but probably it could saw out the bone if needed.

- Awl with blade and hole. It is nice mix of awl and blade. Never seen such tool but works great. If you need to deploy some kind of rope through some flexible material it will do its job perfectly. Or for hole drilling in skin meterials.

Blades do their job just fine considering its size. Locking fuction is as good as on much expensier multi tools but however on expensier ones like leatherman or victorinox u will get bigger ones and lets say just slightly better than on this G301 multitool. Of course biger knife & saw blades are better but when you find yourself in situations where you will not have any of them present you will be lucky to have them in small size on this great multitool.

Now about the tools:

- Main tool are pliers. They really are nice and sturdy able to cut steel wires, and for doing all kinds of jobs you usually do with pliers. They are spring assisted. Pliers are in the rank of much expensier multi tools!

- scissors, can/bottle opener with wire krimper, pocket clip holder, flat screwdriver are also excellent tools with excellent build quality!

- Screw driver holder with 10 Screw Driver Set( magnetic joint sleeve, 1-3# cross screwdriver, 7/5/3mm flat screwdriver, 6/4/3mm hexagonal screwdriver) is first class! Better and sturdier than on new wave or charge tti. Set is completley free with this tool!

So is this tool without flaws? Not exactly... I found one thing that manufacturer could and should improve and I appeal to Exduct to forward my review to them... So what is the catch?

When U open pliers and put them to closed position hand grips are wide open! Look at this... Pliers are in closed position. I have XL hand! Multitool should never be set this way.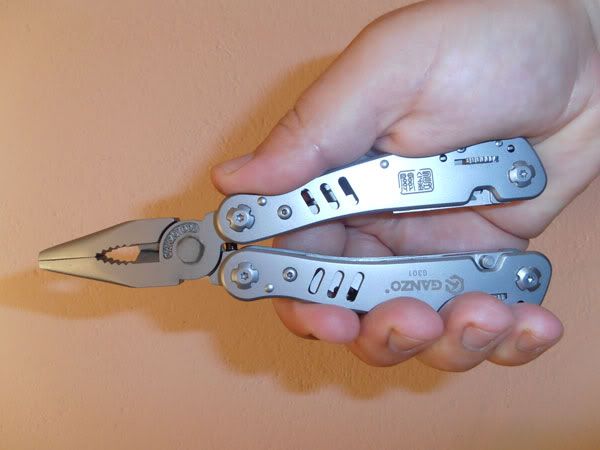 Pliers in fully opened position. If U want to screw or unscrew bigger mainstream U have to use two hand and that is frustrating!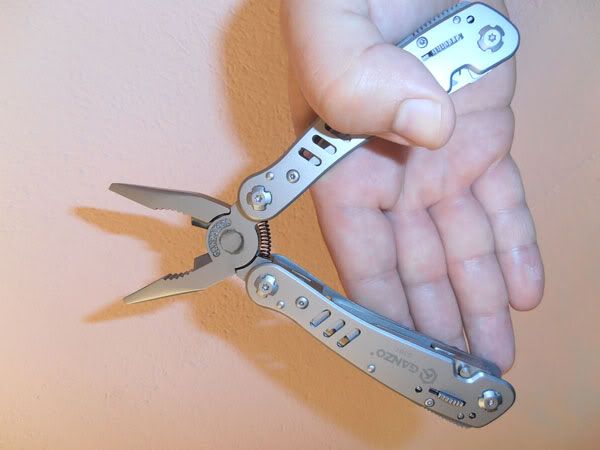 In order for enjoyable work with multitool handgrips must almost touch each other when pliers are closed as on first picture. Why? Because of better grip when screwing out the mainstream. With bigger mainstreams U have to screw or unscrew them with two hands... That is thing that leatherman and victorinx have better solved, and Ganzo should learn from them and improve this great multitool...

Conclusion

This is excellent and unbeatable quality multitool for its price even with this factory design flaw... It has an excellent locking function with excellent & quality tools. Tools are easy accesible without any effort. U will also get first class sheat with 10 tools for free! This kind of tool is must have for all outdor activities. I never saw such quality at this price!

My advice to factory as I own and use worlds best multitools would be only to improve geometry of handgrip to make this tool enjoyable to work.

Last words

Buy... You can not get wrong with this... This is tool that can save your or other lifes, and that can take your working and outdor experience to next level.

When Ganzo corrects geometry mentioned above this tool will become unbeatable tool in every aspect! Quality, Price and easy od use...

Till then easy of use or handgrip geometry is only minus of this excellent multitool.